Penn's Kwanzaa celebrates 'regrounding our purpose'
Normally, you get gifts at the end of Kwanzaa," said Brian Peterson, director of Makuu: The Black Cultural Center. But as with most things, this year was a little different. A Dec. 9 event was hosted not in the Hall of Flags but in the ARCH building, and the communal meal had shifted to pre-boxed food. Nevertheless, it was a time to come together and foster a sense of community, he says.
Given past few semesters, it was vital to close out the year with this celebration, says Peterson. "Kwanzaa at Penn, celebrated for the past 30 years, is a moment to recognize the seven core principles—unity, collective responsibility, cooperative economics, creativity, self-determination, purpose, and faith—and to inspire students as they head into final exams. It also brings together faculty, staff, community partners, and alumni and allows Makuu to share a small gift and a meal, which for this year, was grab-and-go," he says.
Chime Amaefuna, a junior from King of Prussia, Pennsylvania, majoring in biology and minoring in Africana studies, was among those passing out gifts as co-chair of the Black Student League (BSL). "This has already exceeded my expectations," Amaefuna said of this year's Kwanzaa event.
Amaefuna's main aspiration was a sense of unity. Because of remote learning, many first and second year students did not have a chance to meet upperclassmen, he said. "There's a disconnect."
BSL is trying to make some of these connections, Amaefuna said. "We want to create a safe space for Black underclassmen, create that space for them to be in Black community."
The Kwanzaa gift offered this year was crewneck sweatshirts reading "Black Penn" in greyscale against a black background. The sweatshirts were first introduced in May during a BSL trip and have since became a coveted item, said BSL vice president Zaria Franklin, a senior from Atlanta majoring in psychology.
"Seeing 'Black Penn' is very empowering," Amaefuna said. The sweatshirts will "get more people talking about the Black experience."
The 2020 Summer Reading List
Though time spent reading by the beach may be limited this summer, lounging outdoors with the smell of a book and the feeling of the sun beating down remains a seasonal staple. Mercifully, a joy that even a pandemic can't ruin. 
Below, find book recommendations from Penn faculty and staff, ranging from works that touch on racial justice to ones that explore stories of the "scientist hero."
Brian Peterson, director of Makuu Black Cultural Center
The Book: "The Warmth of Other Suns," by Isabel Wilkerson
Why I Picked It: Now a decade old, this is a timeless classic providing a wonderful mix of narrative and history, describing some of the ways that the Great Migration transformed America. For people who are questioning what's happening in the U.S. now, this book is a reminder that it's not just about George Floyd, Breonna Taylor, Rayshard Brooks, and the much-too-long contemporary list of lives tragically cut short by law enforcement. It's also very much about the terror that was daily life for Blacks in the South, only to find, after fleeing, a new kind of struggle and discrimination in the North and Midwest. Wilkerson constructs the story in a way that holds your full attention, makes you feel, and helps you see America with new eyes. 
The Connector: Brian Peterson
The ground floor of the ARCH building is buzzing. Through one of the glass entranceways, students work with laptops out, while others discuss the relative merits of Drake and the longevity of his career versus Kanye's (already over, apparently). Above low-slung couches, the white walls are punctuated with African prints and sculpture. This is Brian Peterson's domain. A three-time Penn graduate, Peterson became the director of Makuu: the Black Cultural Center, after earning both a master's and Ph.D. from the Graduate School of Education. He completed his undergraduate degree in 1993 with a major in engineering.
Peterson's influence is gentle and understated, with a light but powerful hand on the reins, guiding students toward their future paths, encouraging them to be peer leaders and to lift others up as they progress. Throughout, he is student-focused, creating an empowering and welcoming climate for the Penn community. "Students are claiming their own identity and their own spaces," Peterson says. "Makuu is extremely diverse. It's hard for people to see that because 'everybody's Black,' but people are coming from so many different backgrounds. It's hugely important that everyone feels that Makuu is a safe space for them, however they identify." 
Dean John L. Jackson, Jr. of the Annenberg School for Communication, who was on Peterson's Ph.D. dissertation committee, says Peterson works "innovatively and ambitiously to help make Penn as inclusive as possible. He brings both passion and professional expertise to such issues in ways that make him a fantastic leader and collaborator."
PENN DEMOGRAPHICS: Black students at Penn
As of Fall 2019, the percentage of undergraduates who identify as African American or Black. 3.2%
As of Fall 2019, the percentage of students who identify as two or more races/ethnicities, one of which is African American or Black.
The average 6-year graduation rate for the cohort of all Black students enrolled at Penn from 1990-1993.
The average 6-year graduation rate for the cohort of all Black students enrolled at Penn from 2010-2013.
The average 6-year graduation rate for the cohort of Black male students enrolled at Penn from 1990-1993.
The average 6-year graduation rate for the cohort of Black male students enrolled at Penn from 2010-2013.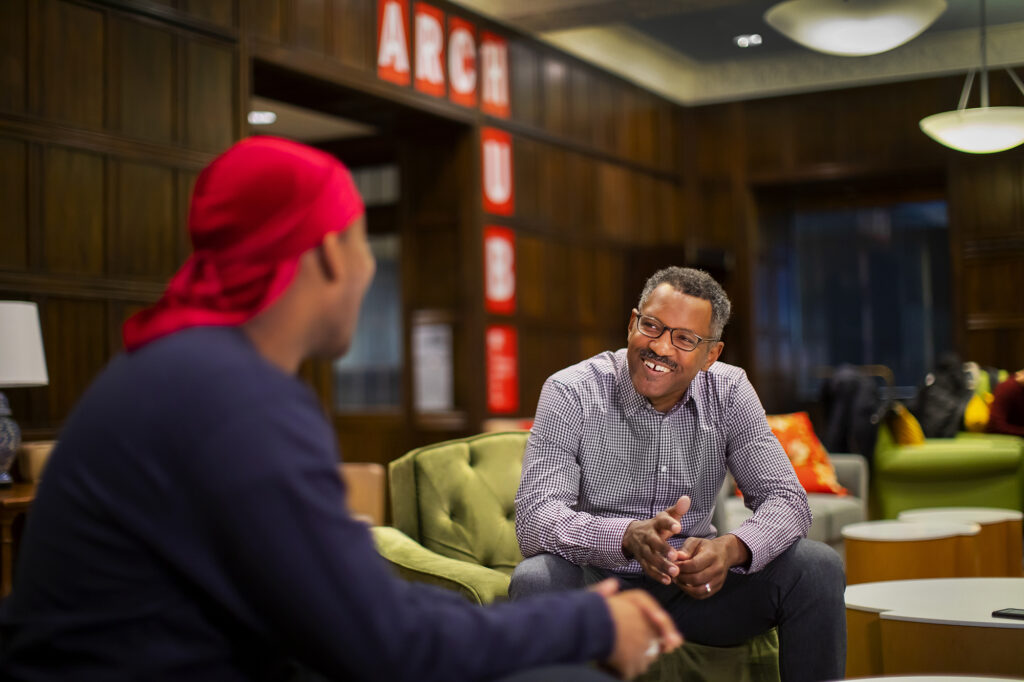 Peterson supports a variety of Black student groups as part of his work, including the umbrella organization UMOJA and the Black Graduate and Professional Student Assembly. His commitment to higher education access is seen through Ase Academy, an academic and cultural enrichment program in which middle and high school students attend workshops led by Penn students on topics from public speaking to entrepreneurship. "Our kids are looking for something," Peterson says, adding that Penn's resources can be used to elevate the West Philadelphia community. 
Makuu also operates the Robeson Cooper Scholars Program, which identifies and nurtures students interested in interdisciplinary social justice. Through weekly dinners, Peterson brings resources to students and facilitates their academic and social development. An annual Kwanzaa celebration brings students, faculty, alumni, administrators, and community members together to celebrate and recommit to the spirit of collaboration, self-determination, and purpose. 
"Wherever we are is Makuu," Peterson says, who still remembers when the ARCH building was occupied by the Christian Association. The Gold Standard rented a portion of the building, and there was a bar downstairs where the cultural organizations are now, Peterson recalls. "Now," he says, "it's a hub for ideas, community, and self-affirmation."
'Strive to Thrive​'
Oftentimes the word "survive" is tossed around on college campuses, hoping students make it through tough exams and the transition to living on their own. At Makuu we help students develop the capacity to be exceptional in multiple areas. We collectively set high expectations, and we foster a supportive environment to meet them.
This space on our website will describe some of the stories and ways that we strive to thrive. We begin with a few of our recent graduates sharing their Penn and Makuu experiences.